Task Force on Climate-Related Financial Disclosures (TCFD)
The Importance of TCFD
The Task Force on Climate-Related Financial Disclosure (TCFD) has become the leading global business framework for climate risk management and climate-related financial disclosures.
At its core, TCFD offers a framework for reporting on climate-related financial risks and opportunities in a consistent manner that provides the comparable information needed for investors, raters and rankers, lenders, and other stakeholders to make decisions. TCFD includes recommendations for companies to build their climate governance capacities, understand their exposure to the climate-related risks that can impact their bottom line, and manage those risks.
The TCFD framework is increasingly integrated into business from a governance and public disclosure perspective. For example, the CDP Climate questionnaire, the largest environmental disclosure platform globally, includes 25 questions aligned to TCFD. 
From Voluntary to Mandatory Climate Related Disclosures
The TCFD was established in 2015 by G20 Finance Ministers and Central Bank Governors within the Financial Stability Board (FSB). The formation was the result of the FSB's review of how the financial sector can best take account of climate issues.
In July 2023, the FSB formally communicated that the IFRS Foundation will take over monitoring of progress on companies' climate related disclosures from the Task Force, to be effective in January 2024. This transfer coincides with effective date of the newly published ISSB standards, IFRS S1 and IFRS S2, which fully incorporates the TCFD framework into baseline global reporting standards. Essentially, the new ISSB standards mark the formalization of the TCFD framework into an initial set of global standards from which independent jurisdictions may ensure their mandatory reporting requirements are built on a common language. 
Since 2015, the TCFD framework has underpinned both new and proposed climate-related regulations and legislation across G20 countries, and has rapidly been adopted globally by publicly traded companies who have tracked its evolution from voluntary to mandatory compliance. Some examples are: 
Signatories of the UN Principle of Responsible Investment (PRI) are now required to report in line with specific TCFD recommendations.
In 2021, the G7 countries agreed to move forward within their respective jurisdictions toward mandatory disclosure of climate-related risks.
In April 2022, the UK became the first country to incorporate TCFD into mandatory reporting when the UK's Climate-related Financial Disclosure Regulations came into force. 
In 2022, the European Union adopted the Corporate Sustainability Reporting Directive with TCFD alignment. The Jan 1, 2024 effective date will see the TCFD topics officially integrated into mandatory reporting requirements relevant to upwards of 50,000 companies.
In June 2023, the International Sustainability Standards Board (ISSB) published two inaugural Standards, which fully incorporate the TCFD framework into a global baseline of sustainability-related disclosures worldwide. In July, 2023 the FSB passed over TCFD progress monitoring to the IFRS Foundation, as the oversight body of the ISSB standards.
The United States Securities and Exchange Commission (SEC) proposed rule on climate-related disclosures is strongly aligned with TCFD. A final rule is anticipated by the end of 2023.
How Can Advisory Support from SCS Help?
SCS Consulting works with companies of all sizes to determine how the TCFD framework can best optimize their sustainability governance structure and prepare for possible regulatory compliance.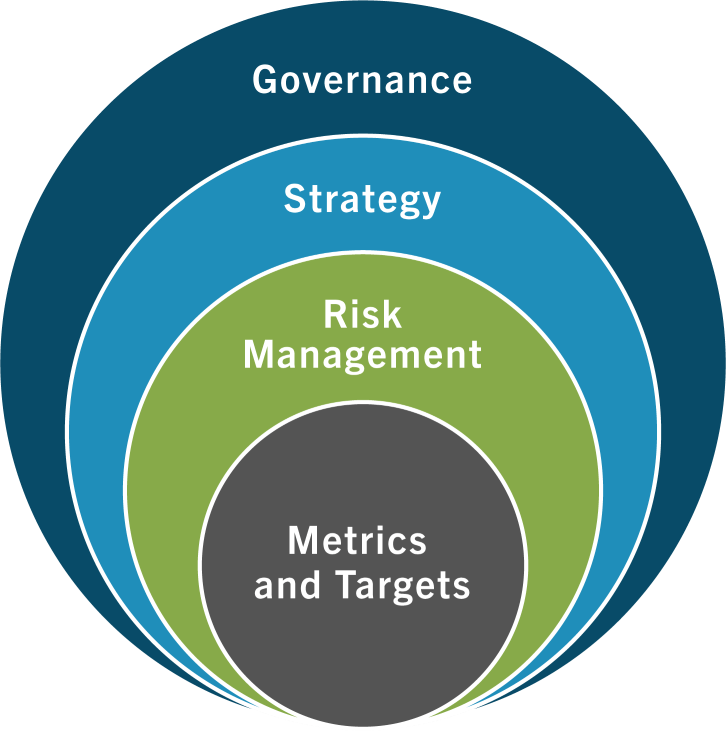 SCS offers expertise on how best to leverage TCFD toward meeting the evolving disclosure requirements that have investor and rating implications.
SCS Consulting provides a fully collaborative partnership experience where we join each client wherever they are on their sustainability journey. Our team of advisors helps you take the appropriate next step:
Discovery: We work with you to undertake a comprehensive Needs and Goals Assessment to understand where you currently align with TCFD, and to inform strategy and implementation plans.
Knowledge & Capacity-Building: We provide your team with training to understand TCFD's core principles and recommendations and the value and objective of specific undertakings, such as scenario analysis. We work with your teams on capacity-building, and facilitation support along the way, including board oversight, financial planning, and management practices.
Risk Management: We guide your team through the risk and opportunity assessment process with a focus on both qualitative and quantitative risks, including completing scenario analysis on material issues.
Strategy Development: We support the development of a TCFD strategy and roadmap to mitigate risk and build operational resilience over the short, medium, and long term, which includes metrics, targets, and transitional planning.
TCFD Disclosures: We help to integrate TCFD disclosures into your current ESG reporting framework or help to create a TCFD-aligned report that can be used for company management reporting and investor communications.
SCS Consulting offers a turnkey TCFD advisory and reporting service that can accurately account for your company's overall climate-related risk exposure and meet disclosure expectations.
Get in Touch with SCS today!